The Graettinger Economic Development Committee (GEDC) was established to develop and recruit new businesses in the City of Graettinger.
GEDC is also here to assist in the development of new homes in the Graettinger area. We have established a plan to offer assistance for individuals and families with the down payment on a new home. Land may also be donated for the construction of a new home. More information on this subject is available by calling 712-859-3504.
GEDC meets the second Monday of each month at 5:00PM at River Valley Telecommunications.
Mission Statement:
To promote economic development for Graettinger and the surrounding area.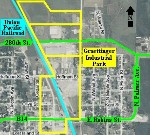 Graettinger TIF Area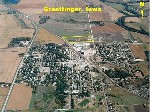 City of Graettinger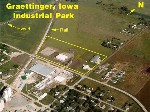 Graettinger Industrial Park
J.R. Brown President
L.C. Petersen Vice President
Karen Spies Secretary
Marty Currans Treasurer
Jeremy Simington
The City of Graettinger and GEDC work along with Palo Alto Economic Development Corporation for the betterment of our community and county.